cebada community centre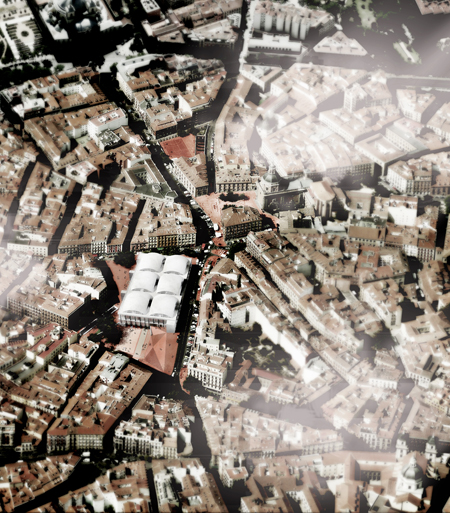 project: Cebada Community Centre
place: Spain | Madrid
type:  competition project | master thesis project
design: june 2014
tutor: Stanisław Lose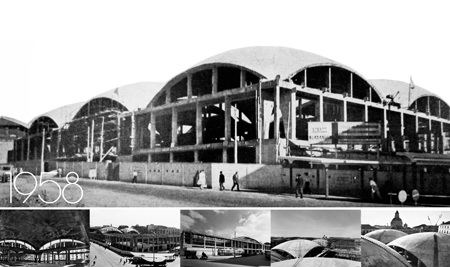 Cebada Community Centre is a conceptual competition project, which was also a subject of further studies of master thesis. The neighbourhood of Mercado de la Cebada is the one where Madrid once began growing and is known as "Madrid de los Austrias (the Austrian Madrid, 1516-1700). Nowadays it is an area characterized by the presence of a very high number of informal activities, making the urban space a very important agent in its correct functioning. It is also a very strong indicator of its vitality and potential. Main goal for the competition was to change the face and function of existing local market. Though terms of the competition allowed demolition of the existing building, decision was made to keep a modernist structure and reuse it in new proposal. Project includes also development and rearrangement of adjacent void left after demolition of public swimming pool in 1997. The point was to investigate what solutions are useful for the area, and which might reactivate it, taking advantage of its potential. The market has a great potential as a node for generating activity, not only through economic means, but also as a social centre, New project of the social hub – Cebada Community Centre is a multifunctional space, which contains cultural, sport and commercial functions.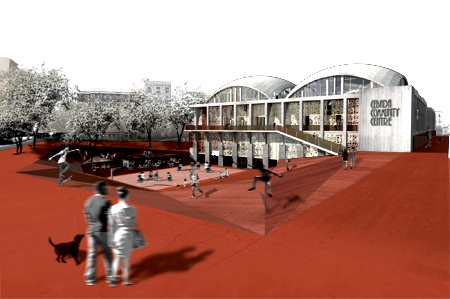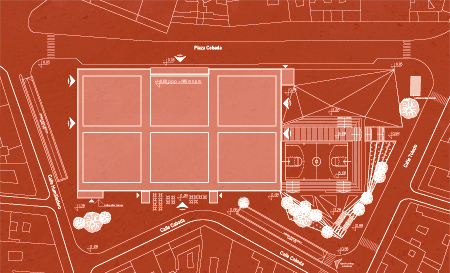 The main aim of the project was to keep as much existing structure as it was possible, but in the same time correct people flow around and inside the building. It is the cause of interference with existing levels of ceilings and the creation of new"ground floor"level. At the same time very important goal was to create illusion that outside penetrates inside, that there are no limits or borders between building and outside space. An important element of the project was to create in the vicinity of the building high-quality public space, which responds to residents needs and local events. Public space is expanding into sports zone of the building. The new Cebada Community Centre contains sports, cultural and commercial functions. Thanks to the modular walls systems, folding audience and folding walls space can adapt to the user's needs. The six domes of the existing Cebada Market are strongly typed in the district. They are a kind of logotype, brand of this space. For these reasons, it was decided to leave the existing form of the building, expose raw elevations, concrete construction and get back to the structure.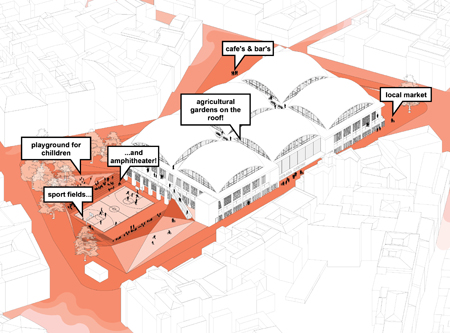 exploded axonometry _function scheme
level +1 _office space based on a modular system boxes, co-working open space, multifunctional space for cultural events with folding stage and
auditorium, library and mediatheque
level 0_ traditional Spanish market based on a modular system stands
level -1_sport fields surrounded by auditory, public space, commercial market, swimming pool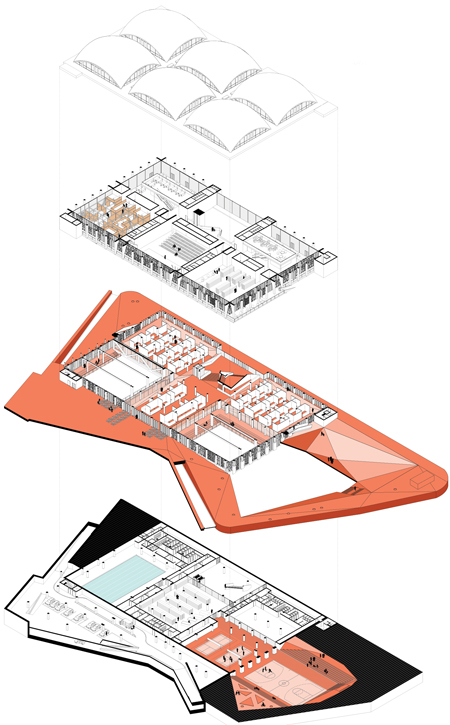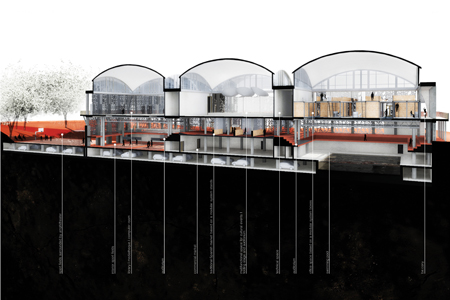 The facades are designed in form of a modular structure made of transparent panels. Six types of panels were designed, with six different levels of transparency. Arrangement of panels on the facade is based on "sun light radiation and shade analysis". If a part of the facade is not highly insolated, then it is covered with panels with higher percentage of transparency. Parts of the facade exposed to sun are covered with panels of smaller percentage of transparency. This way of designing, not only creates an interesting pattern on the facades and lighting effects inside the building, but also makes it sustainable and ecological.